About the PRPA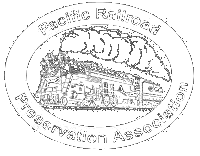 We are dedicated to the preservation and the safe, professional operation and exhibition of the SP&S 700.
We promote safe behavior around railroad property through our relationship with Operation Lifesaver (read more).
We are devoted to telling the steam-era story of the SP&S 700.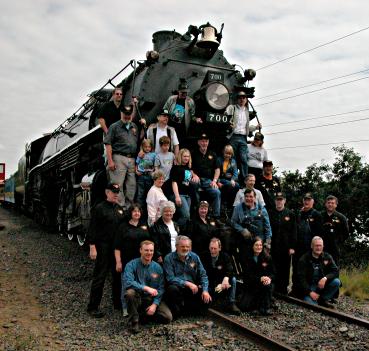 The Pacific Railroad Preservation Association (PRPA) is a 501(c)(3), not-for-profit, all-volunteer organization dedicated to the preservation and presentation of railroad history in the Pacific Northwest. Its specific charge is the maintenance and operation of the City of Portland's SP&S 700 steam locomotive.
In 2012, the PRPA rostered 137 members from 15 states.
The PRPA's by-laws prescribe a six-member Board of Directors and four Officers to oversee and administer the association's activities. As of the January 2015 elections, these positions are staffed by the following volunteers:


Charles Harrison, President
Steve Sedaker, Vice-President
Jim Vanderbeck, Treasurer
Greg Kamholz, Secretary
Matt Baccitich, Director
Jeff Honeyman, Director
Harlan Hoult, Director
George Landrock, Director
Mark Siegel, Director
Randy Woehl, Director

The PRPA is a member organization of the Oregon Rail Heritage Foundation (ORHF). ORHF is an umbrella organization representing seven member organizations who share an interest in continuing the construction of the Oregon Rail Heritage Center, the home for the three steam locomotives owned by the City of Portland as well as several passenger cars.
We communicate through three publications: 1) our newsletter Whistle Up the Columbia, which is included with membership, 2) this website, and 3) our Friends of the SP&S 700 Facebook site.
Visit our Contribute page to join, donate, or contribute in other ways.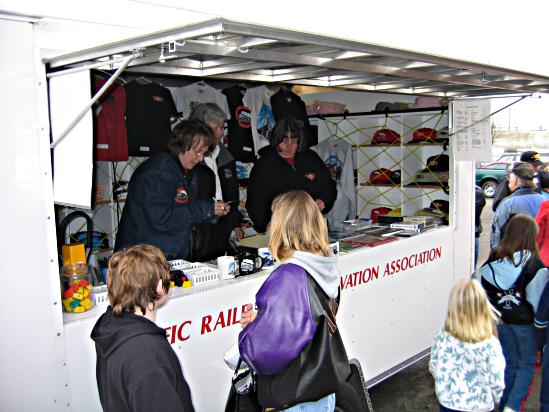 A variety of sources provide the money we need to operate, including
Feel free to review our latest Federal IRS Form 990.
The PRPA is headquartered at the Oregon Rail Heritage Center (ORHC), where the SP&S 700 is housed and maintained along with the SP 4449 and OR&N 197. All three steam engines were donated by their respective railroads to the City of Portland in the 1950's at the end of the steam era and found a long-term home within the Brooklyn Roundhouse. The engines vacated Brooklyn in June, 2012, so that Union Pacific, our most gracious and generous host for more than a decade, could expand its intermodal facility and support its growing business. The Oregon Rail Heritage Foundation (ORHF), of which the PRPA is a member organization, was formed to find a new home for the locomotives and has successfully built the Oregon Rail Heritage Center now taking shape near OMSI. Please visit ORHF's capital campaign site to contribute directly to this ongoing effort!
The map at right shows the location of the ORHC Enginehouse (red marker, street address: 2250 SE Water Avenue, Portland, OR 97214), the ORHC parking lot at the corner of SE Caruthers St. and SE Grand Ave. (under the new 99E viaduct), the new Portland Streetcar stop, and OMSI.
You may contact us at the following addresses:
Regarding this web site - prpaweb "AT" sps700 "DOT" org (email sent here read by webmaster)

Regarding any other PRPA function - prpa "AT" sps700 "DOT" org (email sent here read by president)
Our phone is (503)804-PRPA(7772)
US Postal address:
PRPA
P.O. Box 2851
Portland, OR 97208-2851