Locomotive SP&S 700 Added to the National Register of Historic Places
On January 25, 2006, the United States Department of The Interior added the locomotive and tender SP&S 700 to the National Register of Historic Places. The National Register is the official list of the Nation's historic places worthy of preservation. Established in the National Historic Preservation Act of 1966, the National Register includes districts, sites, buildings, structures, and objects that are significant in American history, architecture, archeology, engineering, and culture.
The SP&S 700 is a robust survivor of a time when railroads dominated inter-state transportation, and steam locomotives dominated rail power. It typifies large steam locomotives as they were at the end of the era of steam-powered mainline railroading. Its appearance and function are virtually unchanged since its manufacture. Its public appearances today, with all the speed, size, noise, heat, smoke and steam of old, are dramatic presentations of the 'way things were' in the mid-20th Century.
The SP&S 700 was listed because it is a working example of the peak of proven steam and rail technology at it was at the end of 'The Age of Steam'. The 700, unmodified during its service from 1938 to 1956, is restored, maintained, and operated as it was originally. It represents the state of the art of practical design, manufacture, and operation when 'steam was king' on the Nation's rails. The 700 is also recognized for its part in linking the Portland area to the rest of the Nation.
The 700, is a 4-8-4 'Northern' built by Baldwin in 1938 and steamed in mainline service until 1956. Owned by the City of Portland, she was restored after thirty years in the weather in Oaks Park by the volunteers of the Pacific Railroad Preservation Association (PRPA). The PRPA today maintains and operates this grand old lady of the rails.
Over 110 feet long and almost 17 feet tall, the 700 pulled passenger trains at over 60 mph between Portland and Spokane. Fueled, watered, and steamed up, the 700 weighs 440 tons. It is the third largest and second most powerful steam locomotive operating today (in the world.)
Plaque for the 700. Photo by Terry Thompson.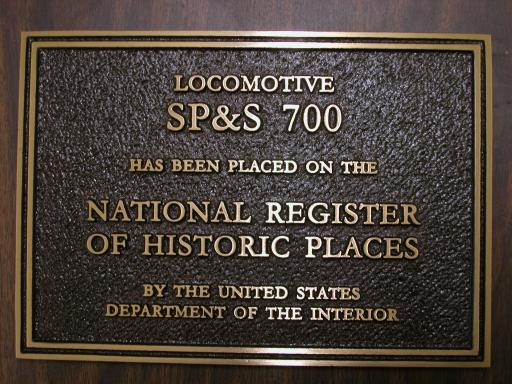 Arnie Holden, who spearheaded the effort. Photo by Terry Thompson.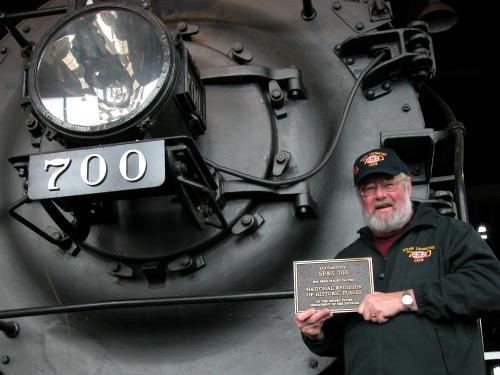 Is it just like it used to be?