Trackmobile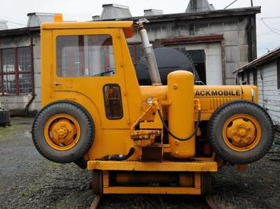 Photo by Terry Thompson
Applying the 700 to perform switching work would be like using a race car to pull a kid's wagon across the driveway. To avoid this situation, the PRPA has acquired a trackmobile, which proves indispensable whenever we need to move the crew car 10 feet to allow for an inspection of the trucks, or some other similar task arises. Our trackmobile is a model 5 TM powered by a Hercules in-line 6-cylinder gas engine (propane). It is coupled to an Allison hydrostatic (automatic) transmission with three speeds forward and three reverse. It has several features including sanders, in-cab coupler release, and on-board train air allowing the air brakes on rail equipment to be used. It has an auxiliary coupler on the opposite side of the standard coupler that has a hydraulic lift enabling weight transfer for improved traction. Curb weight is 16,000 pounds, tractive effort is 17,500 pounds, and it is rated to move 4-6 loaded railcars under ideal conditions. It can also move one large steam locomotive under ideal conditions.
mid 1960's - Built by the Whiting Corporation.
2004 - Donated to PRPA by Tri-Star Transload Company.