PRPA Crew Car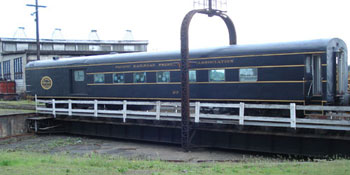 Photo by Jeremy Klitzke
Originally a sleeper car on the New York Central, this item of rolling stock plays a critical role for the PRPA during excursions—it carries the crew! The car also carries our most oft-used maintenance tools, allowing us to perform work on the engine while well away from home. Claim to fame: The 9477 was used in a MacGyver episode in which stolen plans were hidden on a passenger car.
1948 - Built by Pullman Standard Car Company for the New York Central Railroad. Designated NYC 10442, the "Great Peconic Bay," the car had 22 roomettes and was one of 45 cars in the "Bay Series" of sleeper cars.
1958 - Sold to the Canadian National Railroad for use as a sleeper and renumbered to CN 2063, the "Valjean."
1973 - Converted by VIA to a baggage/dormitory car and renumbered to CN 9477.
1990 - Removed from service and sold to a private individual, who stored it at Mineral, WA.
2003 - Acquired by the PRPA and designated PRPX 23.
2004 - PRPA removed all but two roomettes, and converted the baggage area into a tool storage and work area.
2005 - Installed conduit in walls, pulled wires in conduit, poured concrete floor, put insulating foam in walls, and put chip-board panels on walls.
2006 - Put up heating duct in ceiling, put up curved panels on ceiling, sandblasted exterior, painted in red primer, painted in black with yellow stripes, built and installed interior wooden window frames.
2007 - Assembled and installed kitchen cabinets, put wainscoting on bottom part of walls, swapped trucks with PRPX 111, laid linoleum on floor, put vinyl wallpaper on walls, and painted wooden window frames.
2008 - Waterproofed roof, installed floor tiles in entry at vestibule end, and installed generator.
2009 - Added numbering and lettering.